School Tour
Introduction
Sheffield School's main campus consists of over 4,448 square feet of office and classroom space located in Plantation, Florida, which is adjacent to Fort Lauderdale. Located within walking distance (5-15 minutes) of many student housing options, whether it is Sheffield-provided housing or a neighborhood BnB, Sheffield's centrally located training facility offers students easy access to shopping centers, malls, libraries, restaurants, and Fort Lauderdale's famous beaches.
Visit this link for many details and links to the Greater Ft. Lauderdale area. (you can try http://www.greatlocations.com if the specific link changes.)
Broward County: http://www.broward.org/.
A general view of the lovely city of Plantation. Once you arrive, we'll provide you with maps and flyers which will help you find your way around the area. If you'd like more information, feel free to browse the City of Plantation web site.
Classroom
A Comfortable Learning Environment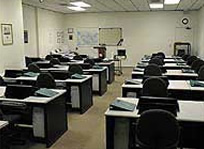 Sheffield's primary classroom, nearly 1,000 square feet, is equipped with modern teaching aids, offering students a comfortable environment in which to learn. Each student's desk is wide and deep enough to comfortably spread out large charts and related flight plan forms. Workstations are spread out enough to provide a comfortable buffer between your classmates. (Be careful, we've noticed some schools lease small classroom space, then cram students into tiny desks without depth, rendering a very uncomfortable and inefficient learning experience.)
Five weeks (or less) of intense, comprehensive training at Sheffield School will prepare these students for one of the most challenging, rewarding, and high paying careers in the airline industry – The Aircraft Dispatcher.
Computer Flight Planning access
A High-Tech, Fully Computerized Facility
With your mobile device you will have access to flight planning systems and ASD (Aircraft Situation display) which are demonstrated later in the course following the required and productive manual flight planning.
Pictured here is a view from the front of the large classroom. With multiple WI-FI networks, every student can check their e-mail and browse the web using our new high-speed T1 Internet access, utilize their own word processor for résumés, cover letters, personal letters, etc. 
FAA-Authorized PSI Testing
Sheffield is an FAA-Authorized PSI (previously CATS) Testing Facility
As a student at Sheffield School, you can take your FAA Aircraft Dispatcher Knowledge (ADX) Test on our "PSI" Computerized Testing System. The testing room is adjacent to the main classroom so there is no need to go off campus or walk to another section of the building. Your results are available immediately. Sheffield provides this service to its students at no additional cost. 
Graduation Day
One of our past Sheffield School graduating class after receiving their School diploma and certificate! Sheffield Graduates are considered the most highly qualified, most highly trained, and most likely to succeed in the industry after graduation….no wonder they're smiling!
Environment
An Unmatched Environment
Students can enjoy South Florida's warmth and sunshine during break time and lunch. Situated in a relaxing combination of water falls and lush tropical vegetation, benches and picnic tables offer a welcome retreat right outside Sheffield's classrooms.